I'm a firm believer that the best way to get your kid to quit playing guitar as quickly as possible is to get them a crappy instrument. If that's your goal, hop on over to Costco and get whatever combo pack they have in a box. Get a 12-pack of socks while you're at it, to make the trip worth it.
Instead, if your goal is to have your child build a lifelong relationship with music — a worthy goal, I think — then you need to get an instrument that doesn't suck. In fact, it should be at least good.
Of course, you don't want to risk buying a $3000 Gibson only to find out that little Timmy takes to the guitar like a cat to water.
So, it needs to be cheap. Save up for the Gibson for a few years.
It's also easy to forget that your young Jack White has tiny hands. That full size guitar that you have had stuffed in your closet since college is about as easy for your kid to handle as a refrigerator.
Cheap, good, and small. The choices narrow.
So, a recommendation. Get this guitar, now:
This is a Squier by Fender Mini Strat electric guitar. It's around $100 everywhere. Musician's Friend, for example, sells it in two girl-magnet colors.
Not only does it not suck, it's actually quite fun to play, and sounds good too.
Problem is, it's still not good enough out of the box. It doesn't stay in tune at all. An out-of-tune guitar is hard to play, and un-rewarding.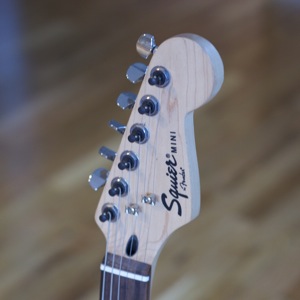 The best thing you can do to improve the playability of this guitar is to put some decent tuning machines on it. Like the Planet Waves Auto Trim tuning machines.
While poor-quality tuning machines abound on most cheap guitars, the overall quality and simplicity of the Squier Mini is, IMO, better than other similarly-priced guitars. And it's smaller and easier to handle for little hands.
Replacing tuning machines is a simple do-it-yourself project. Outpatient surgery for guitars. Here's a useful how-to.
For $150 total, you've got a very playable instrument that should work well for years.
Cheers!