I don't post here much, but I did write a few times this year about running, and the process of becoming a runner. As 2017 comes to a close, I can happily say that I have caught the running bug. I went from being a maybe-once-per-month runner to an almost-every-day runner.
Some stats:
Total running days: 284.
Total distance: 1401.5 miles.
Average pace: 8:14 / mile.
Most miles run in a month: 140.3 (July).
Most days run in a month: 29 (March).
Most miles run in a 7-day period: 48.4 (Dec 3rd – 9th … even took a day off in that stretch).
My average run distance ended up at 4.93 miles. Of those 284 runs:
141 were more than 5 miles.
54 were more than 10km (6.21 miles).
15 were more than 8 miles.
4 were more than 10 miles.
Personal records established:
5k: 22:18 (April 8th).
10k: 43:15 (December 7th).
Half-marathon: 1:42:55 (December 9th).
I did have a few 5k splits that were faster (notably 21:02 on August 25th), but that one in particular was on an all-downhill section as part of Hood To Coast. The above times were my fastest at running that distance specifically.
Some charts, because why not?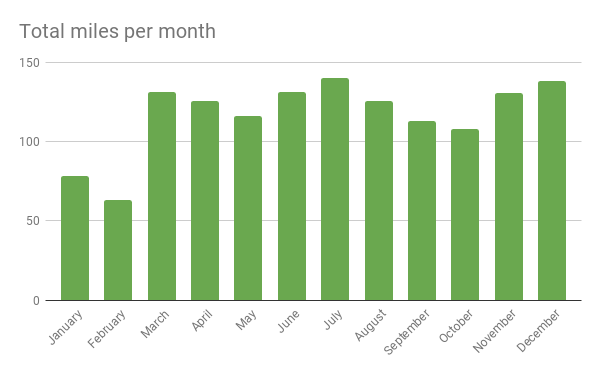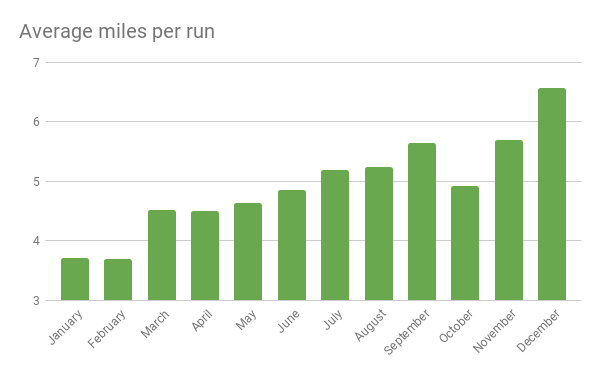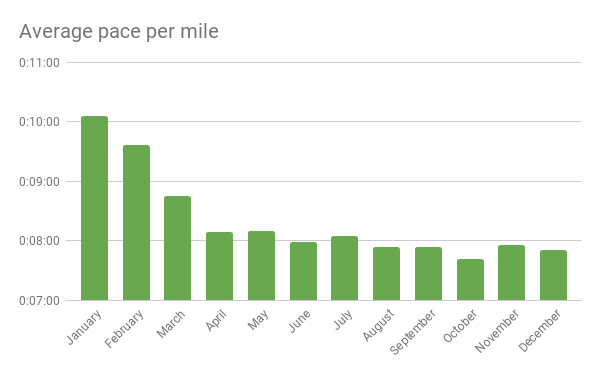 And, while this wasn't really the main point of plan to become a runner, I also dropped over 40 pounds. What a difference that makes in pretty much everything. Including, clearly, my pace improvement over the first 4 months of the year.
What will 2018 bring? As long as I stay healthy I see no reason to stop running. Should I run more or less? Faster or slower? Longer distances or shorter distances? No idea. Maybe I'll just run and see what happens.